Castle Bromwich Lions Work in Collaboration with Community Project to Restore Graveyard Water Supply
Castle Bromwich Lions Support St Dunstan
Working in partnership, the Lions of the British Isles and Ireland are supporting the only organisation specifically committed to the rehabilitation of Servicemen, both current and past, who have been blinded in combat or whose sight has deteriorated over time. Lions Clubs of MD 105 have set a target of raising at least £50,000 towards the cost and dedication of a Day Room within a new Rehabilitation and Training Centre being built by St Dunstan's in Llandudno, North Wales.
Young Ambassador Finals 2011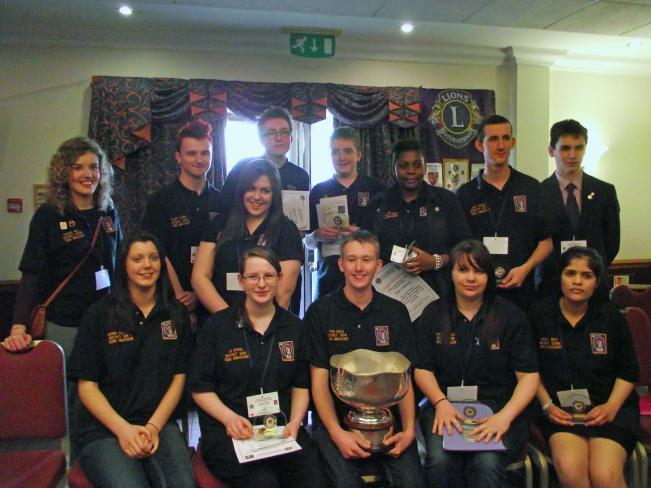 "Lions working with young people - our future."
It's time to get positive about young people and start talking about the multitude of voluntary activities that they support. If all you've seen of young people is the tales of yobs, anti-social behaviour and lack of respect that is reported so freely in the media you may wonder what the world will be like in a few years time, but the reality of today's youth is very far removed from the picture painted by the press and television.
Last week was National Student Volunteering Week and there was no more fitting time for Multiple District 105 to hold the finals of the Young Ambassador 2011 and highlight the involvement of the youth in voluntary work and service to the community; to showcase their enthusiasm, compassion and thoughfulness; to show the reality of youth of today and inspire us for the future. It may surprise you to know that 57% of 16-24 year olds commit to voluntary service. The Young Ambassador final gave us the opportunity to see what that volunteering comprises of and what it means to those who volunteer and those who benefit.
Having the opportunity to sit in an audience with fellow Lions, supporters and family members of the finalists was a privilege. There were times when I laughed, times when I was quite choked with emotion and had a tear in my eye and times when I was just in awe of the young finalists. Some of the young people present had over come difficult circumstances in their own lives and were putting something back into the communities which had helped them; others had witnessed events or circumstances which made them aware of ways in which they could serve their communities; whilst some were just inspired to help in areas which were important to them.
In my eyes, all the finalists were winners. I would not have liked to have been in the position of choosing between them, but that is the nature of a competition and the judges did a brilliant though difficult job. Alex Doyle was the winner of the Shipshape Award and will spend a week on a tall ship paticipating in activities that develop the ability to work in teams and develop leadership skills. Alex is 15 and despite living in the Dales finds plenty of opportunity for community service. He is involved with a number of charities and youth groups including Scouts and Clubs, the YMCA, the United Group, Break Free and is a member of Teesdale School Council.
The winner of the MD105 final of the Lions Young Ammbassador of the 21st Century was Ryan Green. Ryan is 18 and is involved with a number of charities and organisations including being part of a group which develops links with primary schools, is Secretary to Leos and is a member of Sea Cadets. However, his main involvement is with a group called Hope Support Services of which he is Youth Chairman. Hope Support Services aims to support young people who have a family member who has recently been diagnosed with a life threatening illness. We wish Ryan a happy and successful year as our Multiple District Young Ambassador.
To find out more about the Young Ambassador scheme click HERE or if you know of somebody who lives or volunteers in Castle Bromwich, Smithswood or Kingshurst who should be recognised as a Young Ambassador please CONTACT US with details.
---
HOW DO LIONS SPEND HALF TERM HOLIDAYS?

During the February half term holiday members of Castle Bromwich & District Lions joined with other volunteers to help clear over growth in the local closed graveyard and create a shrub bed. In just a few days the difference made by the 32 volunteers was quite amazing. Young and old worked together to assist in the renovations being organised by the Castle Bromwich Community Project.
---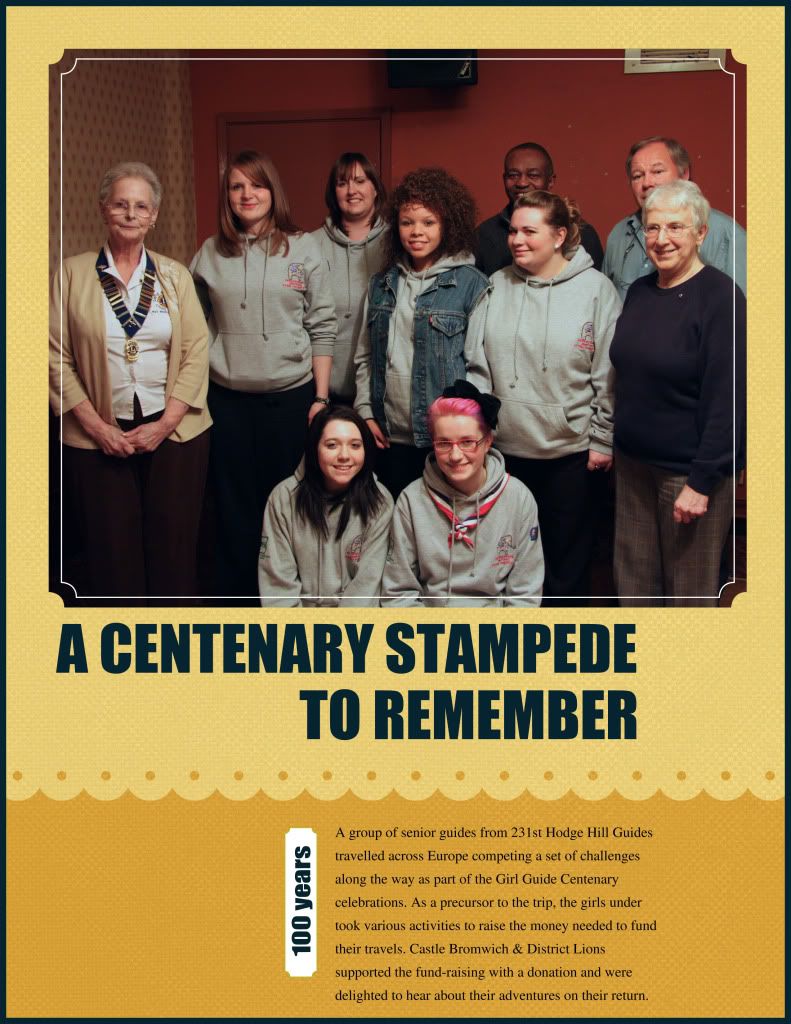 Hodge Hill Guides Return from Trip of a Life-Time
At a recent social, Castle Bromwich & District Lions were joined by a group of senior guides from Hodge Hill who shared their memories of an incredible trip across Europe undertaken as part of Girl Guiding's Centennial celebrations. The Lions had provided a donation to the group's fund-raising appeal and were keen to hear about their adventures which started at the British Embassy in Paris on July 27th 2010.
The Centenary Stampede challenged the Guides to travel around Europe for two weeks whilst undertaking a series of challenges. The team sponsored by Castle Bromwich & District Lions called themselves Elmer'z Army after their elephany mascot. They undertook challenges specific to the countries they visited such as visiting a Prisoner of War Camp in Poland and other challenges linked to the centennial theme such as eating a 100 ice-creams, collect 100 autographs and sing 100 songs.
The girls told the Lions that they got an immense amount of satisfaction from the trip and it had increased their self confidence and resilience immensely. It was the first time that they had planned a trip and travelled independently of their parents and they felt a sense of achievement at having successfully navigated their way around Europe. They all agreed that the memories of the experience would remain with them all their lives.
---
The Secret Diary of Santa's Elf
My goodness what a day! One of the Sleigh Elves went missing. Santa was relying on him to accompany the sleigh to Sainsbury's at Castle Vale to help the Castle Bromwich Lions with their Christmas collections. To make matters even worse, Vixen and Cupid were unwell and unable to pull the sleigh and Santa was concerned that he'd be unable to fulfill his promise to help the Lions.
Anyway, to cut a long story short, Santa asked me to help him out and accompany him to Castle Vale. Without Vixen and Cupid, Santa asked the tree fairy to sprinkle her magic dust over a car belonging to one of the Lions so it could be used to tow the sleigh instead of the reindeer. It's quite amazing how much can be achieved when everybody works together to help. Even, Mrs Claus put her coat on and climbed on board the sleigh to help out.
So, instead of spending the day supervising the toy gluing production line, I found myself standing along side the Castle Bromwich Lions outside Sainsburys singing Christmas songs, holding a collecting bucket and wishing the shoppers Happy Christmas. The Lions told me that they were very grateful to all the people who contributed to their charitable collection and pointed out that every penny collected would find its way to a good cause as none was used for administration.
I've never been out with Santa before, so today was the first time that I'd seen him talking to all the young children. It was heart warming to see their faces light up and their big smiles which their parents hastily sought to photograph.
Santa also spent last weekend helping the Castle Bromwich Lions with their Christmas Charity Collection and he will be helping them every weekend until Christmas.
---

Thanks to the organisational efforts of Social Committee Members Maureen and Maddie, Castle Bromwich & District Lions enjoyed a well earned break at Birmingham's Frankfurt Christmas Market on Thursday November 18th.
Castle Bromwich & District Lions have an active social calendar and, amongst other things, have this year participated in a canal walk at Fradley Junction, visted the National Memorial Arboretum, enjoyed the challenge of a treasure hunt and are looking forward to a Chrsitmas feast at a Chinese Restaurant.
When members of Lions are asked their reasons for joining the organisation, social activity is rarely top of the list, but at some point in the conversation most mentioned that they have found friendship and a great social life along the way.
---

Remembrance Sunday


Hundreds of people in Castle Bromwich stood silent for two minutes during a Remembrance Sunday Service to remember those who have lost their lives in conflicts going back to the First World War.
Members of Castle Bromwich & District Lions acted as Marshals, directing the public, handing out orders of service and providing a guide to lead the parade. Other members marched with the parade and club President, Pat Wooldridge, laid a wreath to commemorate the dead.
This year, in addition to the remembrance service, there was also a dedication ceremony for a newly laid additional stone to the war memorial which is dedicated to those who have fallen in conflicts since 1945.
BRANCHING OUT - LIONS ASSIST WITH GARDENING PROJECT

SANTA'S HELPERS

Castle Bromwich & District Lions will be accompaning Santa again this December as he sets off on his quest to entertain young and old and discover funds for worth while causes.
You can read more about how Santa helps Castle Bromwich & District Lions raise funds at Christmas time and why he's happy to do so HERE.


Royal British Legion Poppy Collection
Members of Castle Bromwich & District Lions have assisted the Royal British Legion's poppy appeal by selling poppies at the Fox and Goose. All money raised will go towards the Poppy Appeal fundraising target of £36m.
This year the Legion will spend more than £72m providing assistance to more than 160,000 serving and ex-Service Armed Forces personnel and their families. Most people tend to think of the poppy appeal as fundraising for those injured in the world wars, but the appeal also helps many who have served in more recent conflicts and their families.
Currently, nearly 10.5 million people are eligible for help from the Royal British Legion and they receive thousands of appeals for assistance every year.
As in previous years, Castle Bromwich Lions will also be providing Marshalling support for the Remembrance Day Service which will take place at the War Memorial on The Green, Castle Bromwich on Sunday November 14th.

Lions Clubs throughout the UK have a history of supporting the UK charity MedicAlert which produces and supplies medical alert identification emblems. Recently Castle Bromwich & District Lions received a letter advising that the linking machine which is used by MedicAlert to produce the emblems is in desparate need of replacement. Club members voted to make a donation to the charity towards the cost of replacing the machine.
You can read more about MedicAlert and our involvement with them HERE.
---

QUIZ BOOSTS CHARITY FUND ACCOUNT
On Saturday October 23rd Castle Bromwich & District Lions and Castle Bromwich Cricket Club jointly hosted a fundraising quiz. If you didn't attend, you missed an entertaining and educative evening, but you can still try your hand at some of the questions which we detail below:-
When was the Berlin Wall erected and when did it come down?
The Red Sea is unique. What is its largest component?
Who were the three Musketeers?
Name the actors who've played James Bond.
How many pieces of wood are there in a game of cricket?
What film contained the quote, "Kid, there's something I ought to tell you. I never shot anyone before" ?
What Shakespeare play does Ophelia appear in?
In which movie does James Bond get married?
If you enjoy quizzes, keep checking back for details of our next fundraising quiz or why not check out our forthcoming events section for other activities of interest?
Local Graveyard gets a Make-Over
During the October half term holiday members of Castle Bromwich & District Lions again assisted the Community Project with its clear-up of the closed graveyard by St Mary & St Margaret Church. Together with Project members and young people from the Youth & Community Centre they cleared self seeded plantss from graves, cut back over-grown holly and removed numerous brambles which were obscuring the monuments.
The graveyard is in a conservation area close to the historically significant Castle Bromwich Hall Gardens. The renovation team sought advice from Warwickshire Wildlife on how to renovate the graveyard in a manner which was both wildlife friendly and in keeping with the historical background of the area. Based on this advice, as areas are cleared, small shrubs, perennials and spring bulbs are planted.
Florence Harrison who has relatives buried in the graveyard, but now lives in Essex, said, " I really can't believe the difference that's been made by volunteers. I last visited the graveyard some years ago and was so upset by the state it was in that I vowed that I would not come again. My nephew told me about the work that was being carried out and encouraged me to visit and see the change for myself. I'm glad I did, the difference is quite remarkable. I hope that the volunteers realise how grateful I am."
REQUEST FOR A VEGETABLE PATCH
Castle Bromwich & District Lions were contacted by a disabled resident with a request that we help create a vegetable patch in his garden which he and his friend could then grow vegetables in with assistance from their carers.
Having agreed in principal that this was something that the club would be happy to assist with, several members visited the resident's home to see what was involved and it was agreed that as well as creating a 10ft x 10ft vegetable patch, members would also assist by tidying the garden and cutting back over grown plants.
The initial work of creating the vegetable bed was quckly achieved during a Saturday morning in October, thanks to the number of members who assisted and the front garden was also tidied and the lawn repaired. We were well looked after by the carers who provided tea and cake.
We will be returning again in a few weeks to complete the work, creating a path across the vegetable bed, mowing the lawn and cutting back more over grown plants.

Marshalling Support at Charity Race - Foundation for Conductive Education
Covering the distance in a 10km sponsored run is a pretty impressive achievement, so a big well done to all the runners who took part in the fund raising event organised by the Foundation of Conductive Education on Sunday October 31st. The event which took place in the beautiful surroundings of Cannon Hill Park in Birmingham proved to be a fantastic success raising vital funds to support the foundation's activities.
As in previous years, Castle Bromwich & District Lions provided Marshals to assist on the day of the event. We were fortunate to have a beautiful sunny day and the park was busy with people taking advantage of the mild weather to appreciate the Autumn colours and peaceful surroundings. Lionism is about many things including combining fellowship and fun with community service and this event exemplified all these things. To some Marshalling at a charity event might not seem like an ideal way to spend a Sunday morning, but that's just what it proved to be allowing us to enjoy the tranquility of the park, share the enjoyment and achievement of the runners and spend time with friends.
Castle Bromwich & District Lions are delighted to be able to assist the Foundation for Conductive Education in its fund raising efforts. The Foundation is a leading UK charity which works to improve the lives of people with neurological motor disorders through the use of conductive education. Thousands of people are diagnosed with a motor disorder every year, be it cerebal palsy or dyspraxia in children, or Parkinsons, Multiple Scelerosis, Stroke or Cerebal Palsy in adults. During 2010 over 1000 people will be supported by the Foundation for Conductive Education through on-site services, workshops, training and out reach projects.
---

To mark World Sight Day on Thursday October 14th, Castle Bromwich & District Lions joined other Lions across the country by taking part in events to raise the awareness of sight impairments and the importance of regular sight tests in order to pick up early signs of eye problems when they are at a treatable stage. Approximately 314 million people worldwide live with blindness or low vision. Of these, 145 million people have low vision problems which could be overcome with the use of corrective lenses. 80% of blindness is preventable with early treatment. With the increase in aging populations worldwide, sight problems are predicted to rise expotentially over the next decade and it is estimated that without effective major intervention the number of blind people in the world will rise by 76 million by 2020. More information can be found HERE.
It was against this background that members of Castle Bromwich & District Lions staged their awareness raising activities. Members of the local community joined with them outside a local opticians and tried to experience what a shopping trip or a walk in the street might be like for somebody who is visually impaired.
Castle Bromwich Lions' President, Pat, was one of the volunteers to be guided around the local shopping area. Together with Borough Councillor Ted Richards OBE, Head Master of Castle Bromwich Junior School, Mr Ian Backhouse and the local Optician, Shabbir Kaderbhai, Pat donned a blindfold and proceeded to explore an area which she felt she knew well from a whole new perspective. Afterwards she commented that, "It was a weird feeling being blindfolded. Peter was my escort and that made me feel a little bit more secure, but I do not know if I would have felt so safe with a complete stranger." Others who took part said that they felt disorientated very quickly and that their other senses, particularly their sense of hearing and their ability to smell were magnified.
Our volunteers were lucky, they were able to remove their blindfolds and see again. Millions throughout the world are not so lucky.
A Shed for Starz!

When Castle Bromwich & District Lions heard that the local non-profit making theatre school Starz! were having to dispose of scenery and costumes after every production they were keen to help provide a solution that would help the group to lower their costs by retaining important props and stage equipment for use in future productions. That solution was to provide a shed which could be utilised for storage. At a dedication ceremony on October 14th, Creative Director, Gavin Prime thanked representatives of the Lions for their help and unveiled a plaque acknowleding the donation.
Make a Wish Week
Do you know somebody who deserves a treat? Do you know somebody who needs some advice from an expert? Do you know somebody who needs some help? If so, Castle Bromwich and District Lions would like to know about them. October 24th till October 30th is our "Make a Wish Week" and we'd like to grant a few wishes that will make a difference in peoples' lives. We're inviting residents of Castle Bromwich, Smiths Wood and Kingshurst to tell us about how we can make a wish come true by contacting us with details of the small things we could do to make a real difference in somebody's life. Please keep your wishes realistic and achievable.