Environmental Projects - Clear-up St Mary & St Margaret Graveyard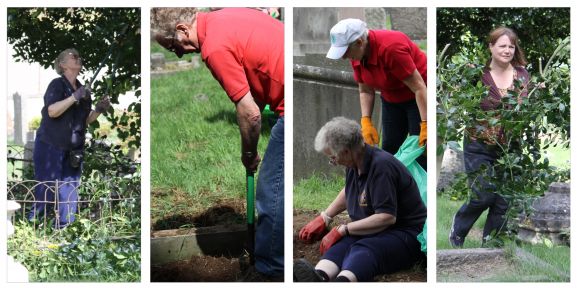 Members from Castle Bromwich and District Lions joined with other community members to assist in a four day mass clear-up of the closed graveyard by St Mary & St Margaret Church. The graveyard which was closed in 1982 has steadily deteriorated over the years as family members of the deceased have aged or moved away restricting the amount of upkeep the graves receive.
During the course of the project a number of graves were uncovered from where they were buried under mounds of grass and brambles. Together with members of the Neighbourhood Police team, young volunteers from Castle Bromwich Youth & Community Centre and the project organisers, the Castle Bromwich Community Project, Lions created plant borders behind the head stones of a number of graves including those of men killed during the first world war, pilots killed whilst flying on duty from the nearby aerodrome and other historically significant graves.
Castle Bromwich & District Lions were so impressed by the dedication of the young people taking part in the project who donated plants and gravel from their own money which would normally have been used for in centre activities or equipment that they decided to make a similar donation of their own.
A report on the project can be read on Spaghetti Gazetti.