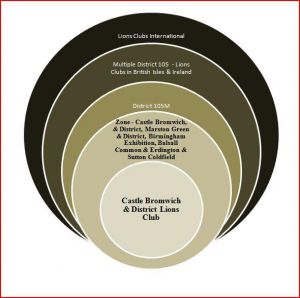 How does Castle Bromwich & District Lions Club fit into the wider world of Lions Clubs?
Castle Bromwich and District Lions Club is part of Lions Clubs International, the world's largest service club
Although the majority of the money we raise is used locally, we also support projects run by Lions Clubs on a zone or district level and even internationally.
Each year the clubs in our zone nominate a "Zone Project" which we all commit to raising funds for. In addition to this, the District Governor or their patner nominate a District Project which all the District Clubs support. This year Jacky, the wife of District Governor Paul Anstice, has nominate "Teenage Cancer Trust" as the beneficiary of the District Project.

organisation. Lions Clubs are grouped into zones. Castle Bromwich & District Lions are in the same zone as Balsall Common, Birmingham Erdington & Sutton Coldfield, Birmingham Exhibition and Marston Green & District clubs.
Each zone is then part of a District. We are part of District 105M. District 105M in turn is part of Multiple District 105 which consists of all clubs in the Bristish Isles and Ireland, which is itself a sub-group of Lions Clubs International.